Arizona Food Safety State Requirements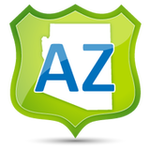 Arizona requires that a food handler and a person in charge, an owner, manager or employee of a food establishment (i.e., restaurants, markets, bakeries, bars, food trucks, commissaries, and food facilities that prepare, handle, or serve non-prepackaged potentially hazardous food) demonstrate knowledge of food safety as outlined in the FDA Food Code by successfully passing an approved food safety training course, and if needed, become a certified food manager, take an accredited ANSI-CFP 8-hour food safety certification course, and pass an examination.
Food Handlers are required to take a short 2 hour training course and pass an exam. To become a Certified Food Manager, taking an approved Certified Food Protection Manager (CFPM) Training Course and passing an exam is necessary. The Learn2Serve Food Protection Manager Certification is approved by the American National Standards Institute and the Conference for Food Protection (ANSI-CFP). This accredited exam is accepted in all states that have mandatory certification requirements for Food Management Professionals. Local requirements may exceed the state's minimum requirements.
Remember, schedule your certification exam with PSI Exams online for a computer testing center near you. (Note: To login to the exam, you will need the username and password sent to you in an enrollment notice email after purchase.) Click here to view the PSI Examination Tutorial.
Arizona Food Safety Regulations
The Arizona Administrative Code Title 9, Chapter 8, Article 1 (PDF), is the official version of the Arizona State Food Safety Rules. The rules incorporate most of the 1999 U.S. Food and Drug Administration Model Food Code by reference. The rules also contain licensing and compliance provisions.
URL: http://apps.azsos.gov/public_services/Title_09/9-08.pdf
Other Regulations: Arizona Food Safety Regulation by County

Arizona Food Safety Training Requirements & Re-Certification
Food Safety Training Required For Managers: Yes
Food Safety Training Required Food Handlers: Yes
Food Manager Certification Exam Required: Yes
Re-Training Frequency: Every 5 years
Re-Certification Exam: Every 5 years
Arizona Food Safety State Contact(s)
Arizona Department of Health Services
Office of Environmental Health
Food Safety and Environmental Services
150 N. 18th Avenue - Suite 130
Phoenix, AZ 85007
Phone: (602) 364-3118
Web: http://www.azdhs.gov/phs/oeh/fses/index.htm
Phoenix, Tucson, Flagstaff, Apache County, Cochise County, Coconino County, Gila County, Graham County, Greenlee County, La Paz County, Maricopa County, Mohave County, Navajo County, Pima County, Pinal County, Santa Cruz County, Yavapai County, Yuma County.
Arizona Food Safety Local Requirements
Local Requirements: Maricopa County has Certified Food Protection Manager and Food Handler requirements. Maricopa County Environmental Health Services requires all food service workers to take and pass a food service worker course and receive an ANSI accredited Food Handler Card within 30 days of beginning work in a food establishment.
Maricopa County:
Food Managers: All food establishments handling open, potentially hazardous food must have one certified food service manager on staff per facility. First, taking a HACCP Food Safety Manager Certification and Training Course and then pass a food certification exam approved and recognized by the Conference for Food Protection. The second is to acquire a Certified Food Manager photo ID license from the Maricopa County Environmental Health Division by bringing the original of your certificate of completion and a fee to one of four MCEHD offices. See link for office locations: http://www.maricopa.gov/EnvSvc/EnvHealth/SpecProg/FoodWorker/TestSchedule
.aspx
Food Handlers: Food Service Worker Licenses are required for any person who handles, prepares, sells or gives away food for human consumption. Licenses are obtained by going to a county office, reviewing a booklet of food safety information, passing a test and paying a fee in cash. See link for testing schedules and locations: http://www.maricopa.gov/EnvSvc/EnvHealth/SpecProg/FoodWorker/TestSchedule.aspx
Environmental Services Department
Environmental Health Division
1001 N. Central Avenue
Suite 300
Phoenix, AZ 85004
(602) 506-6970
http://www.maricopa.gov/EnvSvc/EnvHealth/Default.aspx
ANSI Certified Food Handler Course
Course Description
Most people working in restaurants, on a mobile food truck, caterers, and non-restaurant facilities need food safety training or a food handlers card. To get that card, food handling and serving personnel should complete food handling training. After completing the course, they have to present the food handlers certificate to their local authority and pay the required registration fees.
Food Handler Training is often intended for entry-level professionals in the food service industry, such as servers, chefs, cooks, cashiers, food truck workers, mobile food vendors, caterers, and even convenient store (c-store) clerks. The Food Handler Certificate will require the learner to complete a brief 2-hour training course covering basic food safety principles. At the conclusion of the course, the learner will be tested on their knowledge of the content and learning outcomes. Upon successfully passing the exam, the learner will be issued a Food Handler's Certificate document (or card).
The Learn2Serve.com ANSI Certified Food Handler course will discuss various food safety issues, regulations, and techniques to maintain a food-safe environment. It will help you to better understand how handling food correctly is not only the law, but it improves safety and reduces risks.
Credit Hours: 2 hrs
Cost: $7.00
Course Outline
At the conclusion of the ANSI Certified Food Handler Certificate program, you should be able to:
Identify biological, physical, and chemical contamination.
Identify foodborne illnesses, signs of food spoilage, types of food prep contamination, and proper temperature control methods.
Safely store and prepare meat, poultry, and vegetables.
Demonstrate effective food handling techniques that promote cleanliness and safety in food establishments.
Discuss the importance of proper personal hygiene in the workplace.
Implement appropriate procedures to receive and store food.
Summarize practices for properly cleaning and sanitizing food contact materials and surface.
Upon successful completion of the course and the exam, you will earn your food handler certificate of completion from your training page.
Food Safety Manager Course & ANSI-CFP Certification Exam
Food Manager Training Course
The Food Safety Manager Principles Course provides a foundational knowledge of the FDA Food Code and covers foodborne hazards and pathogens, cross contamination, proper preparation and temperature controls, proper hygiene, proper cleaning and sanitation methods, regulations, and the proper techniques to maintain a food-safe environment.
Audience: Experienced professionals in the food service industry, such as owner, manager, person-in-charge (PIC), chef, cook, or any employee.
Course Outline
Lesson 1: Introduction to Food Safety
Lesson 2: Biohazards, Foodborne Disease, and Food Spoilage
Lesson 3: Contaminants
Lesson 4: Food and Temperature Control
Lesson 5: Employee Health, Hygiene, and Training
Lesson 6: Purchasing, Receiving, and Storing Food
Lesson 7: Cleaning and Sanitizing
Lesson 8: Pest Control
Lesson 9: Facility Design
Lesson 10: HACCP System Basics
Lesson 11: FDA Guidelines for Developing a HACCP System
Lesson 12: Developing, Implementing, and Maintaining a HACCP Plan
Lesson 13: Seafood HACCP
Lesson 14: Consumer Steps to Safer Seafood
ANSI Certification Exam
To be certified as a food manager, the individual must pass an accredited food safety examination - administered by a certification provider.
The Learn2Serve Food Protection Manager Certification is approved by the American National Standards Institute and the Conference for Food Protection (ANSI-CFP). With the exception of Connecticut, this accredited exam is accepted in all states/jurisdictions that have mandatory certification requirements for Food Management Professionals.
Reference: ANSI (American National Standards Institute)
Help with Exam
We have partnered with PSI - a global testing, certification, and licensing provider. The exam is proctored at a PSI test center location.
After purchasing the exam, you should receive an email from PSI instructing you how to schedule your exam. If you do not receive this email, please contact support at 877.881.2235.
You can also click here to schedule exam online at a testing center near you.
Upon successful completion of the exam with a passing score, you may download and print a proof of completion document. The official certificate will be mailed within 15 business days of completing the exam.
Frequently Asked Questions
Food Safety Resources
Hazard Analysis & Critical Control Points (HACCP)
HACCP is a management system in which food safety is addressed through the analysis and control of biological, chemical, and physical hazards from raw material production, procurement and handling, to manufacturing, distribution and consumption of the finished product.
U.S. Food and Drug Administration (FDA) – Food Code 2013
The Food Code is a model for safeguarding public health and ensuring food is unadulterated and honestly presented when offered to the consumer. It represents FDA's best advice for a uniform system of provisions that address the safety and protection of food offered at retail and in food service. Download Food Code 2013 (PDF – 6MB)
USDA Food Safety and Inspection Service (FSIS) – Food Safety Education
FSIS educates consumers about the importance of safe food handling and how to reduce the risks associated with foodborne illness.
http://www.fsis.usda.gov/Food_Safety_Education/index.asp
Food Safety Glossary